Ulcerative colitis is an inflammatory bowel disease (IBD) that causes inflammation and ulcers (sores) in your digestive tract. Ulcerative colitis affects the innermost lining of your large intestine (colon) and rectum. Symptoms usually develop over time, rather than suddenly. Ulcerative colitis can be debilitating and can sometimes lead to life-threatening complications. While it has no known cure, treatment can greatly reduce signs and symptoms of the disease and bring about long-term remission.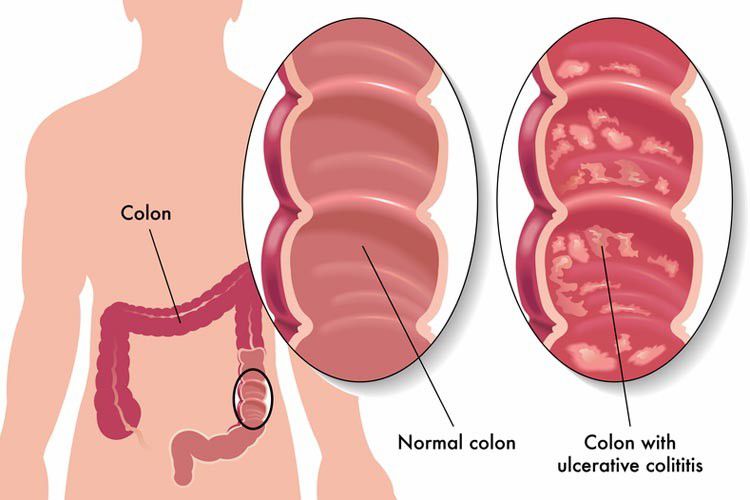 Incidence and Prevalence:
The overall estimated IBD population in India in 2010 came out to be 1.4 million, which was the second-highest number after the USA (with 1.64 million). Therefore, although the disease prevalence in India is lower than in the West, with a population of more than 120 million, the total IBD population in India is among the largest across the globe.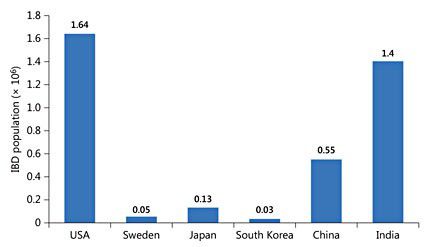 Pathophysiology:
Ulcerative colitis usually begins in the rectum. It may remain localized to the rectum (ulcerative proctitis) or extend proximally, sometimes involving the entire colon. Rarely, it involves most of the large bowel at once.
The inflammation caused by ulcerative colitis affects the mucosa and submucosa, and there is a sharp border between normal and affected tissue. Only in severe disease is the muscularis involved. Early in the disease, the mucous membrane is erythematous, finely granular, and friable, with loss of the normal vascular pattern and often with scattered hemorrhagic areas. Large mucosal ulcers with copious purulent exudate characterize the severe disease. Islands of relatively normal or hyperplastic inflammatory mucosa (pseudopolyps) project above areas of ulcerated mucosa. Fistulas and abscesses do not occur.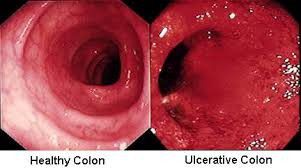 Symptoms:
Ulcerative colitis symptoms can vary, depending on the severity of inflammation and where it occurs. Signs and symptoms may include:
Diarrhea, often with blood or pus

Abdominal pain and cramping

Rectal pain

Rectal bleeding — passing a small amount of blood with stool

Urgency to defecate

Inability to defecate despite urgency

Weight loss

Fatigue

Fever

In children, failure to grow
Most people with ulcerative colitis have mild to moderate symptoms. The course of ulcerative colitis may vary, with some people having long periods of remission.
Emergency Symptoms:
if you experience a persistent change in your bowel habits or if you have signs and symptoms such as:
Abdominal pain

Blood in your stool

Ongoing diarrhea that doesn't respond to over-the-counter medications

Diarrhea that awakens you from sleep

An unexplained fever lasting more than a day or two
Although ulcerative colitis usually isn't fatal, it's a serious disease that, in some cases, may cause life-threatening complications.
Types
Doctors often classify ulcerative colitis according to its location. Types of ulcerative colitis include:
Ulcerative proctitis. Inflammation is confined to the area closest to the anus (rectum), and rectal bleeding may be the only sign of the disease.
Proctosigmoiditis. Inflammation involves the rectum and sigmoid colon — the lower end of the colon. Signs and symptoms include bloody diarrhea, abdominal cramps and pain, and an inability to move the bowels in spite of the urge to do so (tenesmus).
Left-sided colitis. The inflammation extends from the rectum up through the sigmoid and descending colon. Signs and symptoms include bloody diarrhea, abdominal cramping and pain on the left side, and urgency to defecate.
Pancolitis. This type often affects the entire colon and causes bouts of bloody diarrhea that may be severe, abdominal cramps and pain, fatigue, and significant weight loss.
Causes
The exact cause of ulcerative colitis remains unknown. Previously, diet and stress were suspected, but now doctors know that these factors may aggravate but don't cause ulcerative colitis.
One possible cause is an immune system malfunction. When your immune system tries to fight off an invading virus or bacterium, an abnormal immune response causes the immune system to attack the cells in the digestive tract, too.
Heredity also seems to play a role in that ulcerative colitis is more common in people who have family members with the disease. However, most people with ulcerative colitis don't have this family history.
Risk factors
Ulcerative colitis affects about the same number of women and men. Risk factors may include:
Age. Ulcerative colitis usually begins before the age of 30. But, it can occur at any age, and some people may not develop the disease until after age 60.

Race or ethnicity. Although whites have the highest risk of the disease, it can occur in any race. If you're of Ashkenazi Jewish descent, your risk is even higher.

Family history. You're at higher risk if you have a close relative, such as a parent, sibling, or child, with the disease.
Complications
Possible complications of ulcerative colitis include:
Severe bleeding

A hole in the colon (perforated colon)

Severe dehydration

Bone loss (osteoporosis)

Inflammation of your skin, joints, and eyes

An increased risk of colon cancer

A rapidly swelling colon (toxic megacolon)

Increased risk of blood clots in veins and arteries
Modern Homeopathy's Treatment
We at modern homeopathy have been continuously in research for the last 25 years; trying to give our best possible treatment to our patients. Our medicines are the pure form of natural homeopathic medicines that leave no side effects. ; give rapid & gentle cure. Our medicine gives a permanent cure from ulcerative colitis and prevents further complications.